Here comes a new feature us crackheads here at CE came up with, Do You Up Nice (DYUR). In it's essence, the purpose of DYUR is to give personalized assistance to fashion-trodden men, one mook at a time. If this piques your interest, feel free to submit your info to the form which will available on the sidebar within the next few days.
Today's subject: Cam
Height: Tall
Build: Muscular, fringing on explosive
Self-identified personality traits: Driven, boyish, habitual
Notable features: One nosy nose
Price range: Upwards of $160.00 USD
Cam is my good bud, so if I go a little hard on him all is good. That being said, Cam really needs some fucking help.
Being tall, he more options than if he were short, so that's good. But he is freakishly muscular, which might be a problem with some more elegant (read: dainty) clothing. Finally, he considers himself to be driven yet a boy at heart but nonetheless a creature of habit. What I prescribe for Cam, then, is a CHEAP POWER SUIT and a BEACH OUTFIT, all of which will only put him back ~$160. NOTE: Not included in this getup is shoes – I'm assuming that this mook has a pair of decent, black oxfords (which I know he does from prior experience).
Power suit:
The bulk of his money, of course, is going to have to go towards the suit and the tie. Fortunately, Perry Ellis (yes, we can't talk Arnold Brants) is having a sale with "Cam" written all over it:
Charcoal subtle stripe jacket: $49.99
Charcoal subtle strip pants: $19.99
Sage colored Alfani silk shirt (Macy's): $14.99
English Repp Solid Tie (Ralph Lauren): $49.99
Beach Outfit
This one's easy and dirt cheap, but it'll work flawlessly.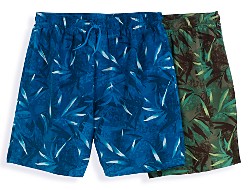 Coving trunks: $12.00
Nat biege A-shirt 3-pack (Jockey): $17

GRAND TOTAL: 161.96
Went a little over budget there, but only by a hair. There you go; go get sexified Cam.