INFEASIBLE: Bomber jackets with fur collars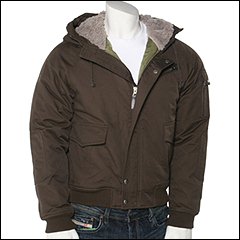 (From Zappos)
Bomber jackets aren't the classiest outerwear out there, but some work (see below). And then there are bombers with furry collars which take the 'cl' out of 'class'. This jacket especially, what with its nauseating color. Gentlemen, fur and you spells danger, leave it to the ladies to wear.

…why is Zappos selling jackets anyway?


---
Feasible: Twill bomber jackets


(Brought to you by Bluefly)

I'd love to wear a bomber like this on a chilly Sunday night. With a mojito. That's the trendy drink these days, by the by.